We are the commercial cleaning experts.
Welcome to ServiceMaster Clean Montréal Centre
ServiceMaster Clean of Montreal provides commercial cleaning services to the Montreal area, Laval and the South Shore. Our services include carpet cleaning, chair and fabric panel cleaning, hard surface floor care, as well as other specialty commercial cleaning services.
We offer restorative and monthly maintenance carpet cleaning programs using both wet and dry cleaning methods.
ServiceMaster Clean of Montreal offers proprietary and certified ''Green'' cleaning products.
For over 35 years, we have provided outstanding commercial cleaning services to our customers in the Montreal area. We are so confident that you will feel the same way about our service; we guarantee it!
For emergency cleaning after fires and floods, 24 hours a day, please call 514-694-6669.
PREVENTATIVE CLEANING AND DISINFECTION SERVICES
For years, ServiceMaster Clean Montréal Centre have been the experts in creating clean, safe and healthy workplace environments. Our experience and training afford us the ability to promote safe practices for infection prevention within all businesses.
In these unprecedented times, we are ready to respond with effective and customizable solutions. ServiceMaster Clean Montréal Centre provides a full range of cleaning and disinfection services that will help to keep your workplace healthy and productive.
GET A FREE ASSESSMENT
COVID-19 FAQs
What is the difference between self-monitor, self-isolate (quarantine) and isolate?
Self-monitoring means to:
monitor yourself for 14 days for symptoms of respiratory illness, such as cough, fever and difficulty breathing
avoid crowded places and increase your personal space from others whenever possible
Self-isolation (quarantine) means to:
stay at home and monitor yourself for symptoms, even if mild, for 14 days
avoid contact with others
You should self-isolate if you:
have no symptoms and
have travelled outside of Canada within the last 14 days or
have come in close contact with someone diagnosed with COVID-19 or
have been asked to do so by your public health authority
Isolating yourself means to:
stay home until the local public health authority says you are no longer at risk of spreading the virus
avoid contact with others
You need to be isolated if you:
have symptoms, even if mild, associated with COVID-19 or
have been diagnosed with COVID-19 or
are waiting for laboratory test results or
have been advised to do so by your Public Health Authority
Source — https://www.canada.ca/en/public-health/services/diseases/2019-novel-coronavirus-infection/prevention-risks.html#h
MORE COVID-19 FAQS
News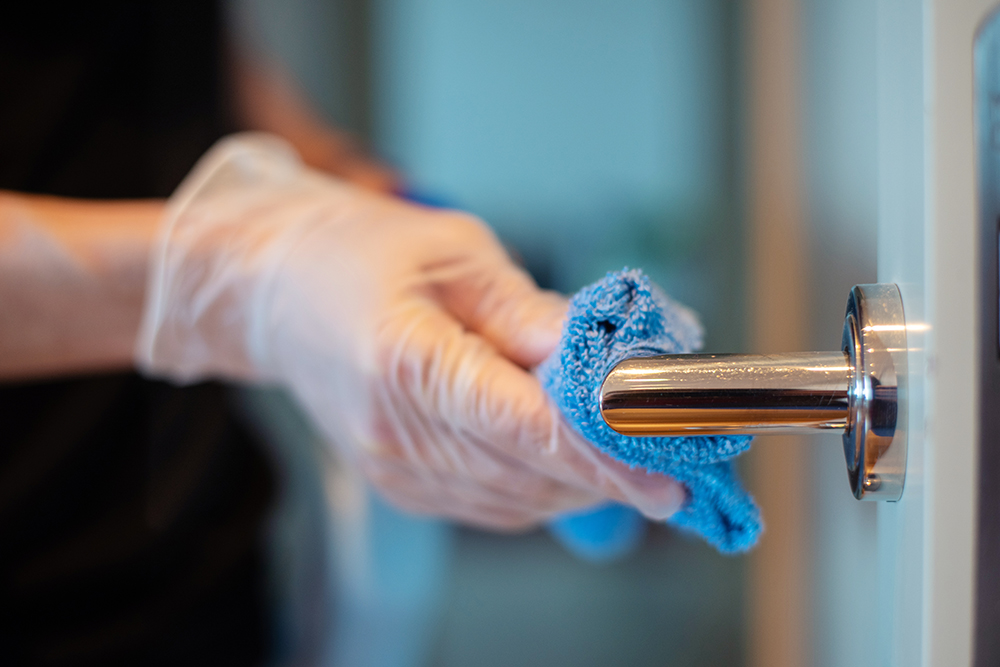 How to disinfect your office
The coronavirus pandemic has changed how we clean, disinfect and sanitize workplace environments. With the continued spread of the virus and the upcoming flu season, it is more critical than ever to ensure that offices and other workspaces are healthy and safe for all employees and visitors.
About Us
We have been serving the Montreal area for over 35 years. We offer the following services: carpet maintenance programs, deep cleaning of carpets, deep cleaning of chairs and fabric panels, complete cleaning of workstations and kitchen cleaning. We also offer cleaning of computer rooms with hepa f
Guaranteed Service
No other vendor offers the quality of service and degree of commitment as consistently or as affordably as ServiceMaster Clean. We are so confident in our performance, we guarantee it!
Our expertise, dedication and value-added services make us the best commercial cleaning choice for your business.
GET A FREE ASSESSMENT